On Saturday I went up to Manchester on the train. I lived in Manchester from September 2000 to June 2003, while I was at university there (at the much-missed
UMIST
), and I hadn't been back since. I went mainly to have lunch with the ladies that I lived with in my second and third years, but I got there a couple of hours early and was able to spend some time walking around the old UMIST campus (now part of the University of Manchester grumble grumble but I'll save my rant for another day).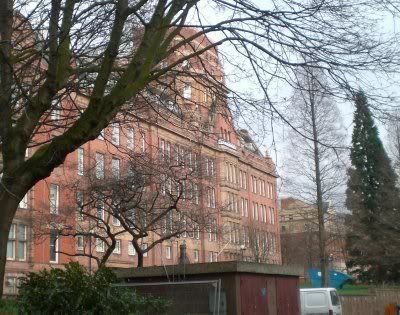 UMIST Main Building, Lambert & Fairfield Hall to the right
And it was really strange. I went out of Manchester Picadilly station by the Fairfield Street entrance, crossed the road and went down Back Acton Street, turned the corner of Lambert Hall and it was almost shockingly familiar. The Main Building on my right, the viaduct to my left, the red paperclip-esque statue in front of me. I walked across and down the steps under the viaduct (past Archimedes, who is sadly missing his nose), then down the Y-shaped staircase, across the quad and over to the MSS building at the back. And it really felt like I was last there the day before, or the month before at most. Except for all the University of Manchester signs, and the Barnes-Wallis building was now apparently the arnes-Wallis building, it was all exactly the same.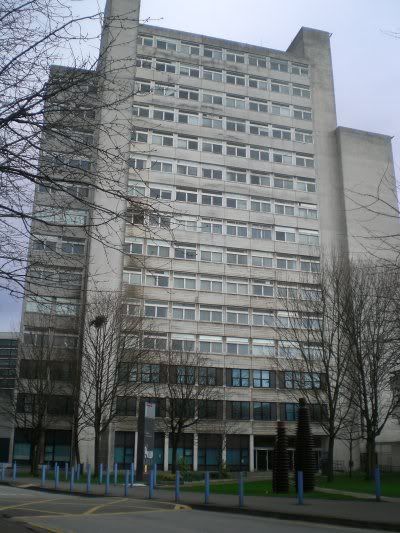 MSS building, which contained the Department of Computation and hence the computer labs
Next I wanted to go into the city centre so I walked back along Sackville Street and Whitworth Street, and then I managed to get a bit lost because they'd built some new huge buildings in my way (how dare they). I knew the right direction though so I kept going and came back out on Picadilly.
UMIST Main Building from Whitworth Street
It sounds silly when I hadn't been back in nearly five years, but I miss UMIST for not being there any more. When I was choosing a university, I chose UMIST based on two characteristics that don't exist since it merged with the University of Manchester - one, it had a self-contained campus in the middle of the city, and two, because it only did science and engineering subjects, computing had a high status within the university. UCL kept their computer labs in the basement; at Bath, the student tour guide didn't even know where they were. At UMIST we had our own skyscraper. Actually, it looks like I am going to have that rant, sorry. You know what else annoys me? When they did the merger (2004, a year after I left), they kept saying that the Victoria University of Manchester was merging with UMIST to form the University of Manchester. Except NO ONE called it the Victoria University - it was just the University. So UMIST has disappeared. And last year when they were deciding which buildings to sell off, surprise, they were all old UMIST buildings.
I know it sounds stupid to be so cross when I don't even go there any more and I live on the other side of the country. But UMIST was special. There was no other university in the country like it. I feel so privileged that I had the chance to study Computing Science (yes, and it's ComputING not ComputER - and it was the first course of its kind in the country) at a university where the Student Union had a computer room just for network games, and a computer shop in addition to the newsagents. And where the Department of Computation was the biggest department in the university, and the first computing department in the country. And it was all completely, unashamedly geeky, and we liked it that way.
Well done if you read all that. =) I think I needed to get it off my chest.
Anyway. After UMIST I went into the city centre. I had a look round
Affleck's Palace
, and then went into the back of the Arndale Centre and got lost because I ended up in the new bit. A month or two before I left Manchester in 2003, they started clearing out part of the Arndale in order to rebuild it and add a new bit, and that's where I found myself. It was all very clean and shiny and new and could have been anywhere in the country, really. I did manage to find my way back to Market Street though so I could meet up with my friends. We went over to Chinatown and had lunch at a Thai buffet place, which was very good, then we sat in Pret a Manger on Picadilly Gardens and chatted until it was time for me to go and catch my train home. It was so lovely to see everyone again, it had been far too long!
Also, I'd like to thank Virgin Trains, for running clean trains, reasonably priced and on time. First Capital Connect please pay attention, they can usually only manage one out of three and sometimes not even that. And I did have a really lovely day out, despite all the ranting!