I was going to take some interesting and artistic photos for the blog today, but unfortunately the sun has very much
not
got his hat on, so they'd come out looking like crap. So I'm going to share some photos of other things that I've made recently and not blogged about before.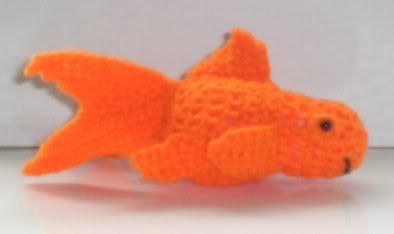 This is the crochet fish. I designed him myself. He's based upon one of the fancy goldfish I had at the time (I don't have them now. Now I have two neon tetras and two rummy-nose tetras, and no plans to crochet them at the current time). The crochet fish turned out to be quite popular - a friend who tested the pattern for me (well, she got
her
friend to make it, but it's the same thing) has one for each of her two children and they love them. And I made one for another friend to give as a present. And I've sold the pattern once as well. I'm not sure whether to make up patterns of more fish, or whether to do other things; fish don't seem to be too difficult, though. Maybe I'll do a
pleco
next (ooh, and you could put a magnet in its mouth, and then you could stick it to things! Might have to do that).
Also I am continuing with making tiny things for Mum, who as some of you may know sells
dolls house knitting patterns
over t'internet. Soon she shall be selling dolls house crochet patterns as well, designed by yours truly. Such as this stylin' shoulder bag:
I also made the underwear for that doll as well but only because when Mum lent her to me she was naked (the doll). And that seemed just wrong, especially if I was going to take photos and put them on the internet.
Mum and Dad are in foreign climes at the moment, by the way. They're currently in Hong Kong, then at the weekend they advance to New Zealand, then about a month later I think it's the Cook Islands, then home. So while they're away I'm designing some patterns and also redoing the whole website, because it could be better organised. And prettier. I designed and programmed it in the first place though so I only have myself to blame.
I made three tiny cushions last night. And a striped tea towel (tiny). And I contemplated a tablecloth but didn't get that far, maybe another day.
And finally, as promised, a photo of my cat, apparently doing some sort of yoga pose: