Yes, I'm still alive. I've just been doing some temping and that makes me tired and disinclined to do anything in the evenings. But I have some stuff I wanted to talk about so here I am.
Firstly, I finished the crochet blanket! I am so pleased with it, it's turned out beautifully. No pictures yet because I've just given it a wash and it's drying. I've found a box and bought some tissue paper so once it's dry I'll take some photos and then package it up. The baba it's for won't be here until April so it's got a little while to wait.
My next project is my yellow wrap cardigan, but I haven't started it yet because the needles I have in the appropriate size are old vintage ones with quite blunt points, and the pattern is quite lacy so I need pointier ones. We're going into MK tomorrow so I should be able to drag Mark through the doors of John Lewis for a few seconds so that I can buy some better ones. Then I can start.
Mark requested a
Mamas and Papas
catalogue and it arrived yesterday. There are some lovely things in it but they're so expensive! I'm choosing to view it as inspiration for things that I can make or modify myself. Here are some of my favourite things from that viewpoint: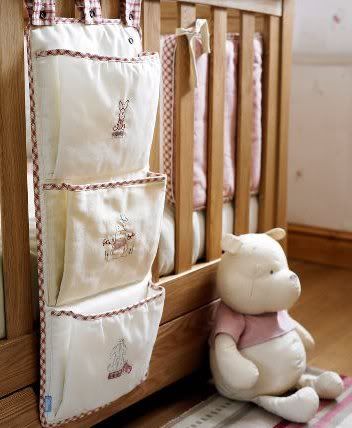 Cot tidy with pockets. I think I'd make it a bit more colourful, though, with more applique/embroidery on the pockets, and maybe a quilted back.
Pram toy - maybe a caterpillar, or maybe a train! Lots of things you could do.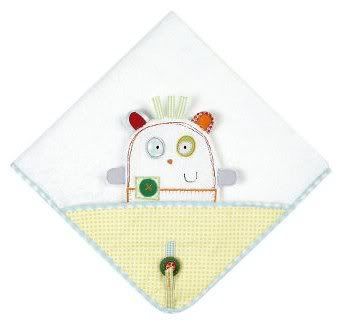 Hooded towels with applique, and matching wash mitts. If you had two matching towels, and cut the corner off one to sew onto the other to make the hood, you'd have plenty left to make the mitten. Not sure if I'd make it look that manic, though.
Embroidered/appliqued bibs. I'm most amused by the 'Hello World' one, because it's traditional that when learning a new programming language, the first programme you write is one that prints 'Hello World' to the screen.
I know I probably won't make half of these things, but they're all so lovely in my head! I don't do a huge amount of sewing but I'm inspired to now. I have a sewing machine so it wouldn't be too hard. Hmm.