I love that phrase. Odds and sods. Next time I have a website that has a miscellaneous section, I'm going to call it that.
Anyway.
I've been promising photos of the crochet baby blanket for a long time and today I actually managed to take some, outside in the sunshine no less. This first one though is of it blocking in the spare room (don't we have lovely beach towels?). Click on the picture to see it bigger.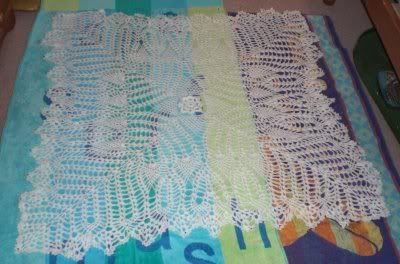 And here it is outside, enjoying some February sun:
Although it's nearly March, and that makes me happy. I am not a winter person, not even a little bit, even though I was born in December. I need to be warm and sunshine-y.
On Friday I made some raspberry buns.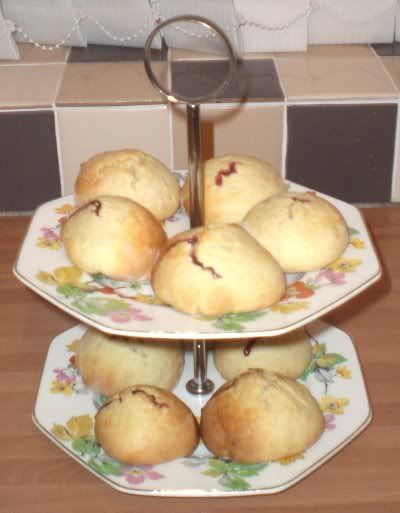 They are a bit like scones, but slightly sweeter, and with the jam already inside (efficient!). The recipe is from the mother-in-law, and if anyone wants it, I'll post it (I'm sure she won't mind). Hers don't usually go as volcanic as mine though. But never mind! They still tasted fine, and there are currently none left, so obviously I need to make some more.
I was at the library today and they had the new Stitch'n'Bitch book, which is patterns for men. I had a flick through, but I didn't bother getting it out, because I know his nibs wouldn't wear anything I made for him. Actually, that's not quite true, because I did knit him a hat years ago and he did wear that for a while, but he has a pirate hat now (a wool hat with a skull and crossbones on, not an actual
pirate hat
).
Today I've been playing with various bits of fabric and things, trying out some new stuff to make, maybe for the shop, maybe just for myself. But this post is getting long enough as it is, so I'll postpone.
Toodles!