I love felt. When I was a child I used to use it all the time to make little animals and dolls clothes, and as a grown-up* I'm drawn to it for the same reasons I was then - partly the bright colours, mainly the way that it doesn't fray. It's magic!
Yesterday I made some more little cats
The blue/purple one is for sister Jen, the other two will go in the shop. I think they need some accessories first though.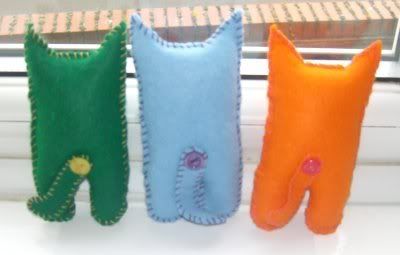 I didn't notice until I was taking this photograph that the blue cat's tail is on the other way round to the other cats'. Not that it matters.
*technically