Mark is in New York at the moment (allegedly for work) so Mum came to stay the last couple of days. We had a lovely day out yesterday and did some shopping and I accidentally spent all my money. Although it was all on things I was planning to buy at some point anyway, honestly.
First, we went to the
Country Cross-Stitcher
in Woburn, which is a really lovely little shop with everything you could want for needlework. I've been looking for a birth sampler kit for a while but couldn't find one I liked because I'm quite picky. They had
this one
though, which I thought was lovely. So now I have another sampler to make (I've been halfway through
this one
for about four years).
Also, a few days ago I finally found the lace blanket pattern that I want to make for my baby. It's
this one
, and of course I needed some wool, so Mum and I also stopped at Hobbycraft for that. I found some lovely wool (Wendy Mode DK) that is 50% merino wool and 50% acrylic, so it's lovely and soft and woolly whilst also being quite tough (and machine-washable!), and it wasn't too expensive. I've made a start already.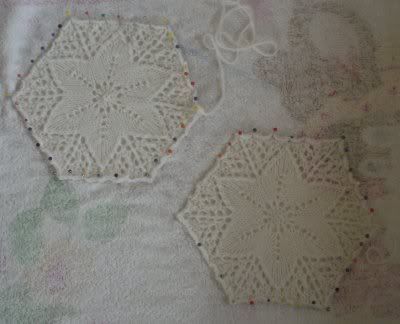 The photo is a bit dark, it's actually almost white, just ever-so-slightly cream. You make hexagons and sew them together, and half-hexagons and triangles to fill in the edges. Then there's a border that goes all the way round. And it all looks lovely.