So I was sorting out my wardrobe a few weeks ago (it became necessary), and I found this frock.
(bad picture, sorry)
I've always loved the skirt on this dress but not the bodice, and I've always half-meant to try and make it into a skirt, but chickened out. When I found it in my wardrobe the other week, I first thought 'I should give this to the charity shop - I haven't worn it in ages and probably won't wear it again.' Then I thought 'So what's to be lost by trying to make it into a maternity skirt?'
Some googling led me to
this excellent tutorial
, so I dug out some pieces of t-shirt that I had lying around and set to it.
I cut the bodice off the dress, hemmed it along the back and cut a larger section out at the front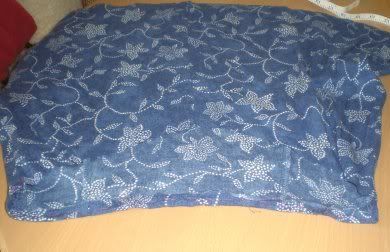 I cut out a correspondingly-shaped piece of t-shirt fabric, and threaded elastic through the hem
Half an hour swearing at the sewing machine, et voilà!
It fits really well and is so cool and comfortable in this hot weather we've been having. I love wearing skirts in the summer, so I think I need to go into town at some point and hit the charity shops for skirts (then Primark for matching t-shirts). The whole thing took about an hour and a half, start to finish.
I've made something else useful this week as well, but I'm saving that up for another post. Must make the most of this burst of creativity.