I finished the knitting on my Baby Surprise Jacket!
Doesn't it look great?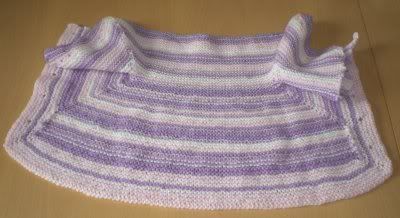 OK, it looks like a blob. But if you fold it up on one side: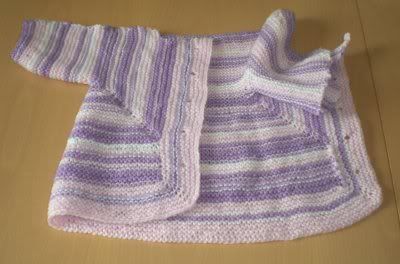 And on the other:
Ta da!
I just need to sew up the shoulder seams and add some buttons. And then put it away for a while, because it turned out the size for a larger baby rather than a smaller one, but that's OK. Babies grow, so I'm reliably informed.
For anyone else who wants to knit this, I'd really recommend printing out
Dawn Adcock's notes on the pattern
. I found them very useful, because as I said before, the instructions in the original pattern are pretty vague and a bit ambiguous in places. I'm not sure I'd make this again; I've got the hang of the pattern now, but the big blocks of garter stitch were a bit repetitive for me. I want to knit something a bit more fiddly and lacy now, which is just as well, because I've got plenty of hexagon blocks for the lacy blanket to be getting on with!