A week or so ago, my friend
Amy
posted on Facebook that she was going to make muffins. Naturally I thought 'Mmm....muffins,' and googled up some recipes. The one I tried was
this one from Nigella
and I highly recommend it - lovely soft muffins, and very chocolatey!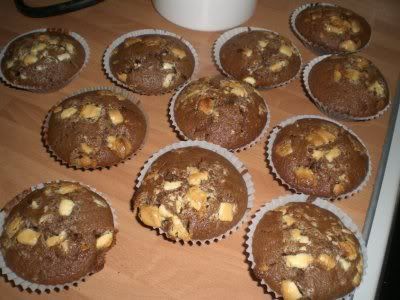 That isn't a very good photo but I can't take a new one because, um, there are only two muffins left.
The problem I have now is that to make the muffins, I had to buy some eggs. I don't normally buy eggs, because I only really use them for baking. And now I have five eggs that need using up. I'm going to have to make more cake. Although possibly
not as much cake as Sarah
.