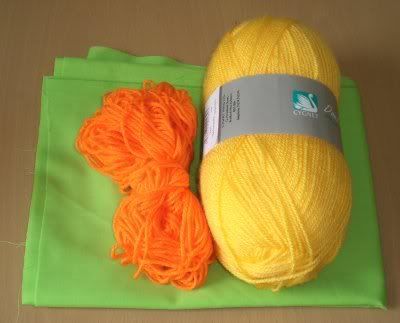 All ready to make a cushion cover!
I have
this book
, which has many options. I think I probably need nine yellow and orange squares for the front of the cushion cover. I think I'll make these first, then make up the green cover. Or should I do crochet squares for both sides? It might depend on how much wool the first nine use.
A couple of things about that book, though; first, make sure you get the right edition, if you want a copy - the one I linked with the pink/red blocks on the cover is the British edition, using the proper British terms. There's also an American edition with green/blue blocks on the cover. Also, '200 crochet blocks' isn't strictly accurate - quite a few of them are just different colourways, and I'm not sure that should count. But there are as many as you need, to be honest, and the book is well laid out and easy to use.