I know I said black, but taking photos of black things turned out not to be so easy. So I went with brown instead.
I made chocolate chip cookies yesterday. Mmm. I think I'm moving closer to the perfect recipe that I've been looking for for a while. They needed more vanilla, though, and possibly slightly longer in the oven (they were cooked, but a bit spongey).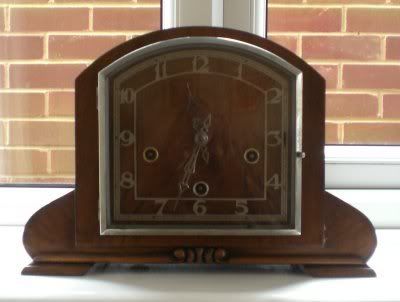 I inherited this clock from my grandmother. Isn't it lovely? It was a wedding present from her parents, back in 1941. It doesn't run unfortunately. One day I'll get round to getting it fixed.
And yes, I have a window in my house that looks out directly onto a brick wall. That's not the main living room window, which looks out over the close, but another window on the side of the room that faces the side of the garage. It lets in a bit of extra light but the aspect is uninspiring.