First day of the colour photographs! Today is red and pink. First I took the camera for a walk in the garden.
Here are some of the apples growing on Mark's apple tree, starting to turn pink. I like this photo.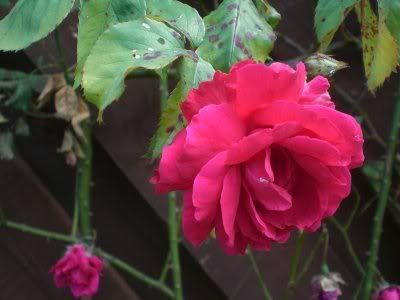 I like this one too. This is one of the flowers on my climbing rose, which I must take a full photo of at some point because it's looking lovely as usual.
Gnome! Mark has three gnomes. This was the second one I think.
This is my least favourite of today's photos. I should have paid more attention to the background (you can see the radiator) and the light, it was a bit too dark. If I'd taken the rocking chair downstairs or maybe even outside I think it would have come out a lot better. I like the composition though.
More photos tomorrow!