This one is from about February I think.
I didn't make this for any particular reason, I was just rummaging through my scrap bag when I found a piece of wadding, and thought I would try making a quilted picture. As you can see, rectangles aren't my strong suit.
The flowers are my favourite bit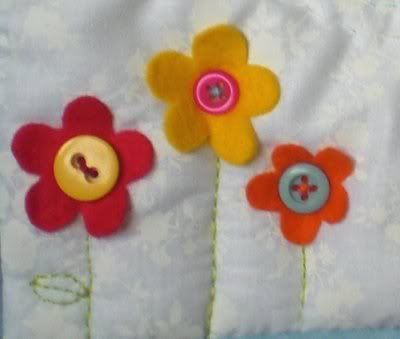 The butterfly turned out OK, but I should have put something underneath it, because there's no quilting there and the fabric is a bit puffy. Possibly I didn't pull it flat enough before putting the binding on (although it was tacked down).
This was fun to do but more time-consuming than I expected - especially as after I'd done the interesting picture bit, trying (unsuccesfully) to get it square and sewing on the binding took a long time. I might try a bit more of this in the future though, if I have a specific project that could use it.