The sun has actually come out today and I was going for a walk up the road into town so I thought I would take my camera and take some photos for the blog. And then was too self-conscious to get the camera out. So here instead are some photos that I found on my camera memory card.
In mid-April Mark went to New York on a
jolly
work trip and Mum came up to visit me. We went to
Bletchley Park
and I took this photo of one of the old buildings.
I just really like the shape and the clock. And the windvane but I didn't get all of that in.
We live not far from a small airfield and often get little planes going over. Here's one I saw the other day: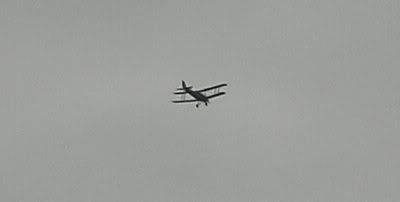 Biplane! That photo is a bit of an optical illusion, I just realised. The plane was actually flying away from me at the time but if you look at it you can also see it flying towards you. Cool.
Finally, here is a photo of the cat being super-duper-helpful (yes, that's clean laundry). Please note the dark object in the bottom left of the photo - that's his fleece which is specifically there for him to sleep on.