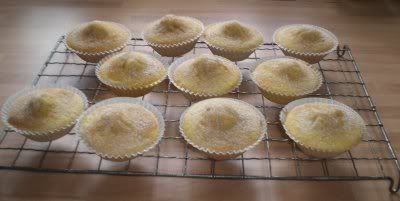 After I said about making chocolate muffins the other day, my sister Jen sent me a recipe for doughnut muffins, that are apparently her husband's favourite. Today I finally got round to giving them a try.
Here is the recipe; it says it makes 12, I made half-quantities and got 12 fairy cake sized muffins. If you have a proper muffin tin you would probably would get 12 but that's too many for me.
Ingredients
175g/6oz butter
200g/7oz caster sugar
2 large eggs, lightly beaten
375g/13oz plain flour
3/4 tbsp baking pownder
1/4 tsp bicarbonate of soda
1/2 tsp freshly grated nutmeg (I used dried)
250ml/9 fl oz milk
For the topping:
100g/3 1/2 oz caster sugar
1 tsp ground cinnamon
25g/1oz butter, melted
Preheat the oven to 180C/350F/Gas Mark 4. Grease a deep 12-cup muffin tin.
Beat the butter and sugar together. Add the eggs gradually, beating well.
Sift the flour, baking powder, bicarbonate of soda and nutmeg together. Add half to the creamed mixture with half of the milk. Gently fold the ingredients together before incorporating the remaining flour and milk. Spoon the mixture into the prepared muffin tin, filling each hole to about two-thirds full. Bake for 15-20 minutes, or until the muffins are lightly brown and firm to the touch.
For the topping, mix the sugar and cinnamon together, brush the muffins lightly with melted butter, and sprinkle over the cinnamon and sugar mixture.
Jen told me you didn't really need the topping, so in the interests of science I ate half a muffin plain, then put some topping on it and ate the other half. I liked it so I put the topping on the rest - she was right it didn't need it, but I thought I might as well and a bit of cinnamon is a good thing. I'm not sure they really taste like doughnuts, but they're nice, and they have the right muffin consistency.