Last photos day today! If only I knew what I'm going to write about for Monday. Never mind, I'm sure I'll think of something.
Here is today's first picture: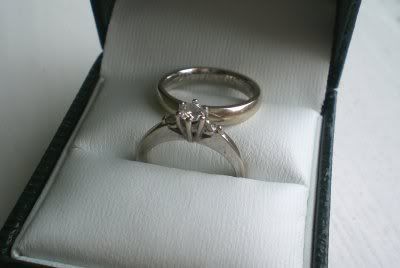 These are my wedding and engagement rings. I'm not wearing them at the moment because they fit quite snugly and I'm paranoid about my fingers swelling up and not being able to get the rings off. I have an Argos wedding ring at the moment, which is a couple of sizes bigger.
Another dull, cloudy day is ruining my photography. You'd think doing this in June would mean I'd get some sunshine. Although when I tapped the barometer just now, it headed in the right direction:
And here's a drawer of shiny metal things: