Here are some photographs of the baby's room. I'm so pleased because it's turned out just how I hoped it would. I apologise for the gloominess of the photos, but the weather here today has been appalling! Thunder and torrential rain.
The view in through the door: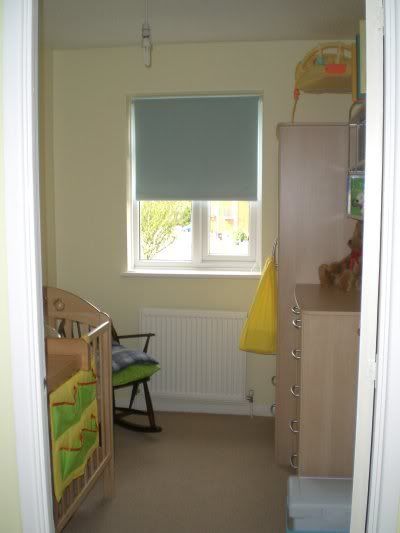 And yes we did buy a lampshade, as I said on Saturday, but when we went to hang it we found that one needs to buy a separate lampshade-hanging kit. Grr. Mark has to go over to Bletchley later this week anyway so he'll pick one up then.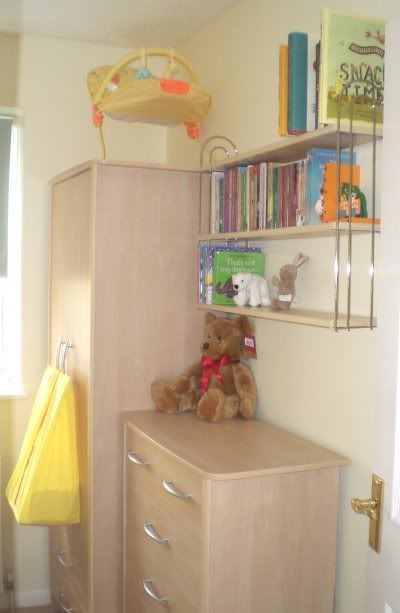 To the right are the wardrobe and chest of drawers, also Bob's teddy and bookshelves. Not all those books are baby books; most of them are our favourite children's books, which we intend to inflict on Bob at the appropriate points.
And to the left are the cot (complete with cot tidy) and rocking chair. The rocking chair is the centrepiece of the Designated Baby Rocking Area:
Yes I am going to finish that cushion, honest. The rocking chair is very special because my grandmother bought it when my mother was born, then my mother had it for all her babies, and now I have it for my baby. And that is why it needs a special cushion.
Oh, and finally, these are the Ikea pictures:
As you can see in the other photo, they are above the cot. There will be at least one more picture on the walls in here; once I have finished Bob's sampler, then it will go up, though we're not quite sure where yet.
And I promise that I will blog again this week, and I won't mention babies
at all
. I'm dreadfully afraid that I'm becoming a bore.