...just slowing down! Only four weeks (ish) to go now and it is wearing me out. Hence no updates. Except this one.
The baby blanket continues. I've finished all the pieces, blocked them, and sewn them together. Now there's just metres and metres of edging to knit and sew on! I'm about a quarter of the way round so far, sewing it on as I go. Then I'll wash and block the whole thing as one and call it finished.
Apologies for the darkness of these photos, the weather has turned crappy again and it's pretty gloomy.
Section with the edging attached
Knitting the edging as I go along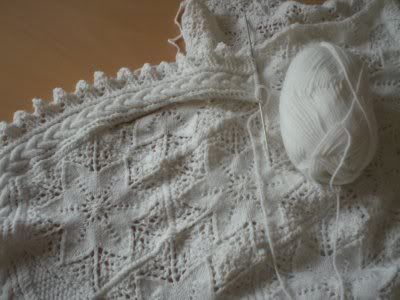 I'm not sure I've attached it evenly round the corner, but I don't really know how to make it any better. Hopefully when I block it it will even out a bit.