I got a
sock blank
for my birthday. And what one of those is, is, a long rectangle knitted out of lovely sock wool, held double. It came with some Kool-aid, which is an American drink, but you can use it to dye wool and other animal fibres. Knowing this, I have made a mental note to never actually drink any.
Dying with it is good fun, though. I bought some fruit drinks in little sports bottles (like Fruit Shoot but the Tesco brand), drank the drink, and filled three of the bottles with concentrated Kool-aid in the three colours I had - red, pink and blue. Then I laid the blank out on a plastic bag on top of newspaper, and drew stripes all over it with the Kool-aid. Then I microwaved it (to set the dye, I didn't just feel like making it hot), and dried it out. And it looked like this: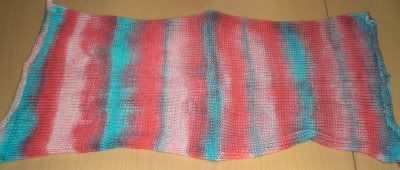 I like stripes.
Then I wound the wool off into two balls. Because the blank is knit double, the stripe pattern matches on each of the balls, so the stripes will match on the socks you knit therefrom. Clever. You can knit both socks straight from the blank, undoing it as you go, but I know if I tried that I'd end up in a big knot, probably multiple times, so ball-winding it was.
Imagine a picture of two balls of wool here because I forgot to take one.
And then I knit my socks!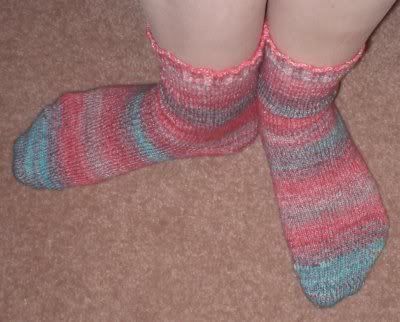 Aren't they great? I love the way the colours blend into each other. I think next time I would either use colours that are all fairly similar, or colours that are all completely different. I think I have enough wool left from this blank for another pair of socks, but instead of that I think I will knit some socks for the baby using this wool. And then I'll probably be all socked out for a few more months.
And, while looking through my camera for the photos for this post, I realised that I never showed y'all Laura's finished sampler! Next time.