I missed my self-imposed Tuesday-and-Thursday update schedule this week, but I have an excuse - I had the lurgy. It seems to be on the wane now so I'm back at the computer once more.
Here's what I've been working on:
Please pretend I put the hat on the baby's head with the seam at the back. Or maybe you wouldn't have noticed the seam if I hadn't said anything. Oh well.
It's just a very simple crochet sun hat. I didn't use a pattern. I was in Tesco looking at the baby clothes, and they had several crochet sun hats, so naturally my thought was 'I can do that! Easy-peasy!'. I used a 4mm hook and two strands of 4-ply cotton held together (one pink, one green). It's treble-crochets all the way round. First I thought it was too big so I pulled it out and did one fewer increase rows, then it was too small so I had to rip it back again and re-insert the increase row I had previously removed. And then I actually tried it on the baby and it was just right.
It doesn't have a fastening of any sort because it seems to stay on OK.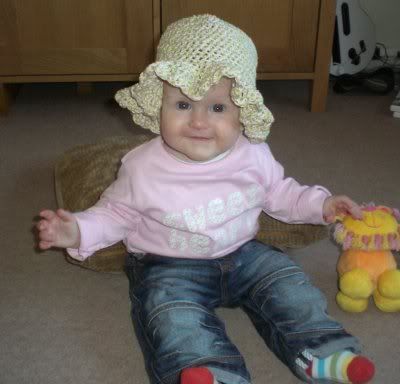 I suppose we'll see once the weather actually turns sunny and she has to wear it for more than three minutes at a time.