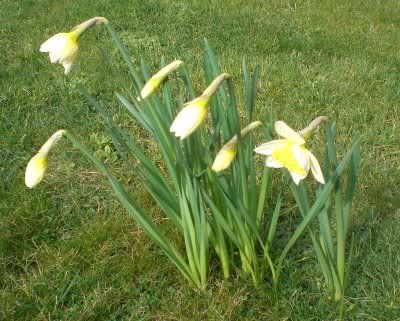 She wore her yellow sun-bonnet,
She wore her greenest gown;
She turned to the south wind
And curtsied up and down.
She turned to the sunlight
And shook her yellow head,
And whispered to her neighbour:
"Winter is dead."
Daffodowndilly
by AA Milne.
I'm not a winter person. I love the first signs of spring because they mean that warmth and sunshine are on their way - goodbye to chilly mornings, and bundling up in thick coats and scarves and gloves, and coming home in the dark. Yesterday I went out for a walk wearing my summer jacket instead of my winter coat, and it wasn't quite warm enough, but nearly. And the daffodils in the front garden make me smile.