I think I'm caught up on the projects I've been doing while I've been on my (unscheduled) blogging break, so here's what I'm working on at the moment.
Those of you who read my old blog may remember that when I started teaching myself to crochet, back in summer 2006, I was making squares for a throw for the double bed in the spare room. Once I got better at the crochet I wanted to make other things, and the squares and spare wool got put away in the back of a cupboard. A month or two ago I dragged them out and reorganised the squares so that I could actually finish the throw. This was also made easier by the fact that we now have a single bed in the spare room instead of the double.
This is what it looked like back in 2006: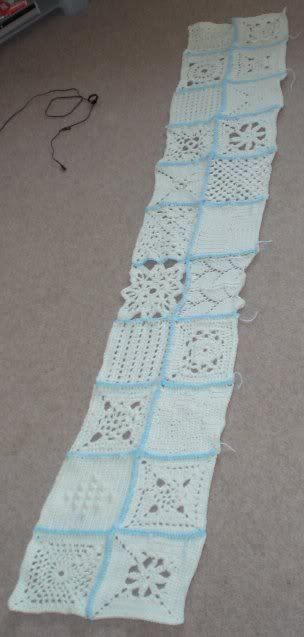 And this is how far I'd got a week or two ago (with extra squares in reserve):
Since then I've added another row of squares all the way round the edge, and more granny-ing. Still 3 1/2 rows of cream granny-ing to go, then it should be the right size for the bed (hooray). I might put a pretty edging on, I'm not sure. If I remember/have time before this posts, I'll take a new photo.
Working on this has actually not been too bad. I thought it would get really boring, and I'm getting a little fed up of it now, but working round and round is so mindless that I can do it with my mind completely elsewhere. In a month or two I might start another blanket using the rest of the wool (I bought enough for a double bed throw), to keep on the sofa in the winter - working on this one, my legs have been toasty warm! I'll take a break and work on something completely different first though, I think. And that one will be cream with dark red because those are my living room colours.