But also for wide things.
That's the sides and front of the
Kelso cardigan
(it's knit in one piece), all on one straight needle. Bit of a pain to be honest but I already had to buy DPNs for the sleeves, I'm too cheap to buy a circular for the body as well. Also pictured, my very clever yarn holder, that I made with a great amount of time and effort (I cut the corner off the lid of an old Persil tub, and put some tape over the cut edge). It works really well. I wish the base was a bit wider though because it tends to fall over.
Here's a sleeve, waiting for the body to catch up: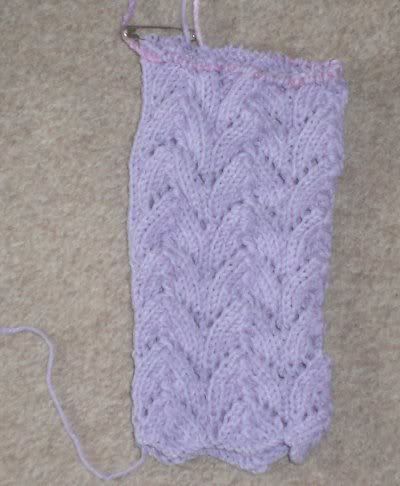 There's another one as well but it looks the same so I didn't bother photographing it. I need to crack on with this because the lovely spring weather is here, the sort of weather that calls for lacy cardigans, and I want to make the most of it. Although since this cardigan calls for aran yarn, I might actually finish it, unlike
the 4-ply cardigan I tried to make last spring.
I ripped that back when I was sorting out my wool the other week. Not sure what I'll do with that yarn; maybe baby cardigans? But a grown-up size cardigan in 4-ply just isn't going to happen!