On Friday, about 5pm, I cast on for the
Mossy Jacket by Fawn Pea
(
Ravelry link
). And by the middle of Top Gear on Sunday - so about 8:30pm - I was sewing on the buttons. I love knitting baby clothes on 6.5mm needles!
Here it is in all its glory: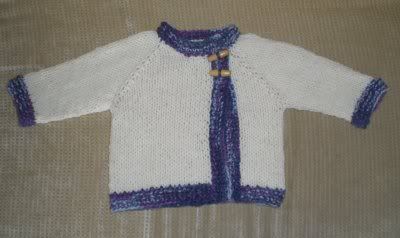 I really liked this pattern. It was quick, easy and looks good. And it is slightly on the large size of fitting, which is what I was aiming for (these babies and their growing, honestly). This is the 12-months size, on a nearly-ten-month-old baby:
Cute! And she knows it.