Mum sold that tiny pink jumper for me on eBay and I made £3! Very exciting. I immediately went out (to the craft shop at the garden centre) and bought something I have been needing - a knitting needle guage.
That's not a typo! That's really what I bought. See?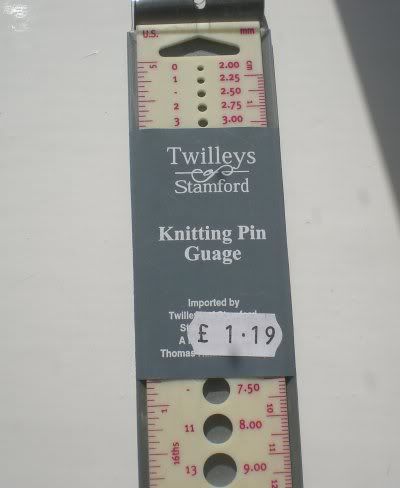 I believe one uses it in a similar fashion to a knitting needle gauge.
We had a lovely weekend, had some friends round for dinner on Saturday and then on Sunday we went down to Sussex for a family barbecue at my parents' house. Saw the sibs and the neph, which was nice. Also picked up a big bag of 2-ply wool so you can expect to see many more dolls house miniatures in the near future! As well as the me-designed baby top, which is nearing completion. Hopefully Laura won't grow too much in the next few days, although I get the impression she's gearing up to it. Fingers crossed it will fit for long enough for me to take a few photos at least!