Sorry that took so long! We were in Center Parcs for a week (lovely, did lots of cycling and swimming and general relaxing!), then Butlins for a couple of days (not technically a holiday as the husband had a meeting, but the baby and I tagged along and went to the beach and the pool), then yesterday I had a migraine and didn't dare look at a computer screen. But here I am! And here is the prize for my lovely competition: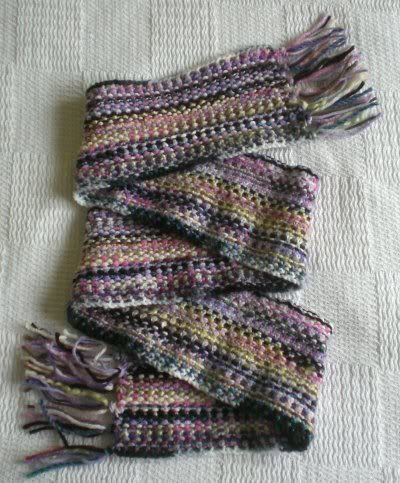 It's a
Scrappy Sideways Scarf
(
Ravelry link
), using all my aran-weight scraps and ball-ends. And it turned out really well! The colours are actually a bit more vivid than in that picture; the light here is dreadful, I'm fairly sure it isn't actually summer and the calendar is telling lies. Further proof of dishonest calendar: apparently Laura is a year old in a few weeks! And that can't be possible.
Anyway. If you want to win this beautiful scarf, all you have to do is post a comment, answering the question below. And the question is:
How many different types of yarn did I use in this scarf?
Nearest wins, if more than one person gets the right answer I will put the names in a hat. Please make sure that there is some way to contact you through your comment (either an email or blog link). Also, if you link to this competition on your own blog, you can have two goes! Closing date is one week today, Tuesday 11th August, at 12 noon BST. Good luck!