I've shown these bookmarks on here before, because I've been making them for a little while to sell on Etsy. And I did sell one or two. But a week or so ago the third person asked me if I had the pattern for sale, so I thought, y'know, I should actually do that. So on Monday I finally got it written up and listed the PDF on Etsy and Ravelry. And since then (so, in the last 48 hours) I've sold eight copies (two on Etsy, six on Ravelry). I had no idea it would be anything like as popular; I'm assuming that at this time of year people start thinking about Christmas presents, and button bookmarks make great Christmas presents! Really, they do.
As well as the adjustable button bookmark shown above, the pattern also includes instructions for this flower button bookmark: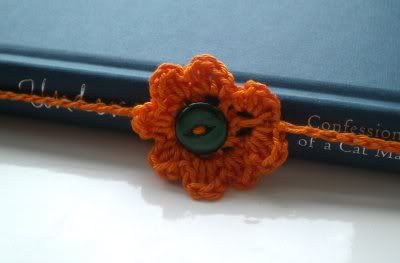 The pattern costs £1.50 and can be bought from my Ravelry store. If you're outside the UK, Paypal will handle the currency conversion for you. So
click here to buy it now!
And make sure you put the bookmarks on Ravelry so that I can see them.