My father was a
Lewes
man and while I was growing up, every 5th of November we would go there for the Bonfire Night celebrations, which are the largest in the world. I haven't been able to make it the last few years, since I live further away now and have babies and things, but at least I can still make bonfire toffee to mark the occasion.
Bonfire Toffee
4oz butter
8oz sugar
8oz golden syrup
Put it all in a saucepan
and boil for about ten minutes.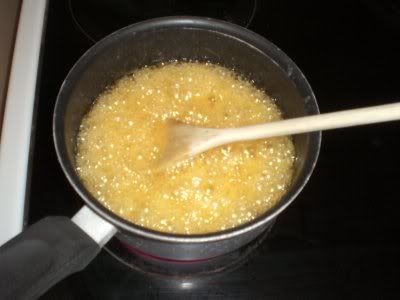 Test by dropping a bit into a cup of cold water - when it sets hard, it's done. Pour into a lined tin and leave to set
then break up into mouth-sized pieces and share with friends, family, people you wish would stop talking, etc.
(be careful as the mixture does get VERY hot - and don't get it on a ceramic hob as I understand Bad Things will happen)