(I'm considering last week a write-off as we were all ill with a terrible lurgy, then we had some other bad news, and generally it wasn't great. But now it's a new week so let's start again!)
Do I use that blog title every year? I think I do. But I do love the spring, and today is so sunny and warm and lovely. We went out to playgroup a bit early and I packed some bread so that we could feed the ducks, but once we got there the pond was deserted. Eventually we found some ducks in the trees, fast asleep with their heads under their wings. Laura was very tickled by the fact that the ducks were still in bed and didn't want their breakfast yet.
I sold a button bookmark last night from my
Folksy shop
so we went to the postbox as well to send that on its way. I made a new banner for my Folksy shop - what do you think? Not sure if the flower wants to be a different colour.
I've nearly finished my cardigan - here's a photo of the pieces blocking on the dining room table: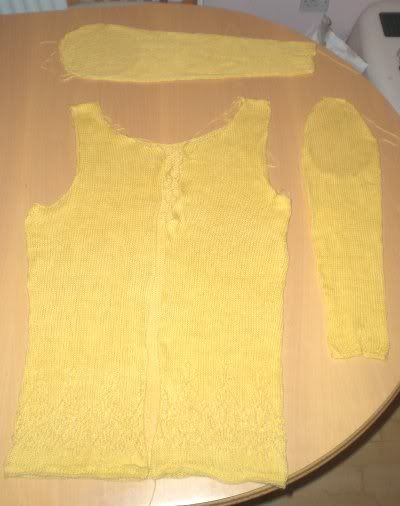 But by now I have sewn the sleeves on (I hate doing set-in sleeves, bah) and sewn up the hem, and now I'm working on the button bands. Typing that has reminded me that I need to get some buttons for it, believe it or not, I don't have any that will do! I think I want mother of pearl ones. Hmm.