Laura and I have been crafting: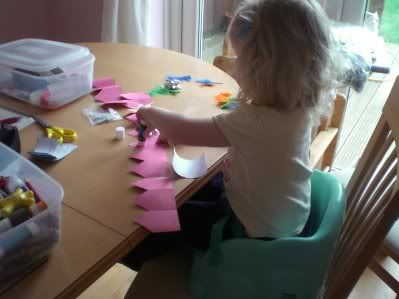 The girls were invited to a birthday party last week, a Fairytale Party, so they needed princess crowns to wear with their party dresses. I made Emily's and Laura had lots of fun decorating hers. I love doing things like this with her. At the moment we have a cardboard box upside-down in the living room, being a house for her Timmy the sheep. We have been colouring it, and drawing on windows and flowers, and sticking on bits of tissue paper. And she was wearing the crown, although it is now nearly a week old and she's napped in it twice and it's a bit worse for wear.
And now for the special offer! To celebrate spring, the next five purchases from my craft supplies shop,
Wind The Bobbin Up
, will each get a free gift in with their order. I'll try and find something that goes with what you ordered. So now would be the perfect time to take a look at all the buttons and ribbons and other pretty things, for all your bright and cheerful spring crafting.
(those flowers were featured on the
Folksy blog
! I was so excited)