As the second girl, Emily wears almost exclusively hand-me-downs, as might be expected. But I noticed that she only has one cardigan. This puzzled me for a while until I remembered that the green bamboo cardigan I made for Laura at about this age felted terribly. So I dug out some wool I had left over from something else (James C Brett Marble Chunky in a variegated blue, and I think I bought two balls for Laura's owlet jumper and then used slightly less than one) and set to. I improvised something because I was too lazy at the time to get up and do a search on Ravelry for a suitable pattern.
It's a top-down raglan cardigan. I guessed the size to start with, which had the usual effect - I had to rip it out after a couple of inches and start again. But I got it right second time.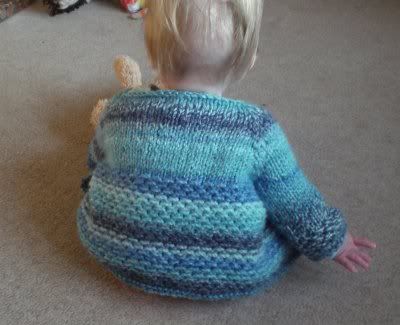 The stitch pattern on the lower body and the ends of the sleeves is from one of the Harmony Stitch Guides, Knit & Purl Stitches I think. I love those books, I have three and might put the rest on my Christmas list next year.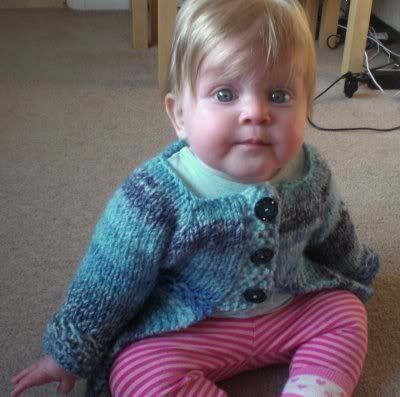 The button bands at the front are only as long as the stocking stitch section as the edge of the textured section doesn't roll in like stocking stitch does. And with babies I only usually do up the top couple of buttons anyway, due to their roly-poly nature and inability to sit still. The buttons have flowers on but you can't see that in my photo.