So here is the cardigan I designed and knitted for my new little niece Mia!
(not a very good photo, the colours are truer in the second one)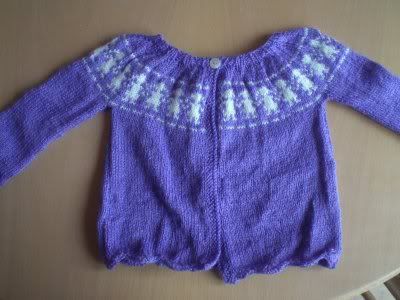 It's knit from the bottom up in five separate pieces (back, fronts, sleeves) then all knit together from the yoke. The edges are a modified feather-and-fan for a ripple effect. And round the yoke is a row of little paper dolls: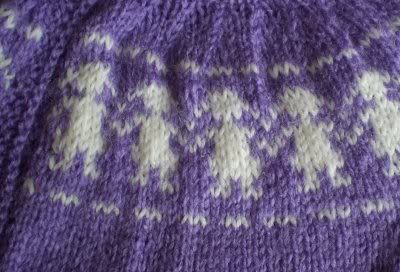 The bit I'm not sure about is the bit that gave me trouble when I was designing it - namely, I don't think I got the yoke decreases right. All the decreases are above the colourwork, which I think is fine, but I did them too quickly and the yoke isn't deep enough. I think it should hopefully still fit but it's not ideal.
I am planning to write this up properly at some point but I'll have to reknit it to test the pattern and I've got other things I need to do first, so I'm going to let it sit for a little while. Also if I put difficult things aside for a while they usually percolate through my brain and I can find a solution when I come back to them. It did turn out very close to how I hoped though.
And now I'm doing more designing, because I wanted a cardigan for Laura for the summer so I bought some wool, and I had a very clear picture in my head of what I wanted the cardigan to look like. So clear, that I was convinced I was remembering a cardigan I had seen online, but I looked and looked and couldn't find it. So off we go. This time, however, I've written up the pattern in full first and I'm now knitting it. I used the easiest construction I could think of so hopefully it will work out!