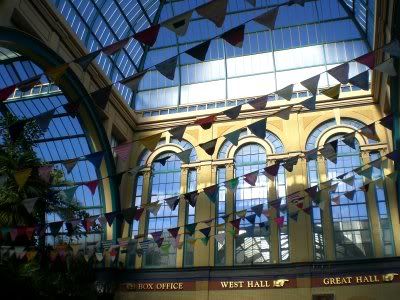 On Friday Mum and I went to the Knitting and Stitching show at the Alexandra Palace in London. We went once before, in 1998, but to be honest I couldn't remember much about it other than that it was good fun! And it was this time too, not just because it was a day out with my mum (which is great all by itself) but because we got to look at all the lovely crafty things and talk about them. We saw many a thing. Lots of yarn, of course, and buttons and ribbons and beads and fabric. I bought some DK acrylic yarn in colours I needed for Emily's crochet bed throw (more details on that another day) and Mum bought some yarn for a friend, and some very lovely silk and cashmere yarn to make a beautiful lacy cardigan for herself.
And after that we went to Covent Garden and ate pizza, and then went to the Theatre Royal Drury Lane and saw Shrek: The Musical. The show was chosen for us a bit because it was where we could get a good deal on the tickets (thanks Tim). But it was good, the set/costume design was amazing and we loved the dragon, although some of the writing wasn't great. They should have used more lines from the film than they did. But it was still good fun.
So a day of knitting and stitching, followed by pizza and a musical. I think that's pretty much my perfect day.