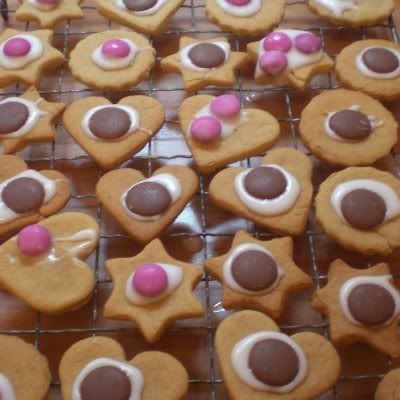 Laura loves making gingerbread. Our gingerbread family cutters are in a box in the garage so I gave the playdough cutters a good scrub and we made different-shaped gingerbread biscuits, and then decorated them with Smarties and chocolate buttons. For gingerbread people we usually put chocolate drops on the cut-out biscuits before baking to make their eyes and buttons.
Anyway, here is the recipe.
8oz/225g plain flour
4oz/110g caster sugar
4oz/110g margarine
3 tablespoons golden syrup
1 tablespoon ginger
1 teaspoon bicarbonate of soda
Preheat oven to 180C/360F. Mix together sugar and margarine, then add remaining mixture. Mix together well, using hands if necessary. Roll to a thickness of about 5mm and cut out. Bake on a lined baking tray for about 9 minutes, until brown but still soft. Cool on a rack.
(They turn out very gingery - much gingerier than gingerbread you buy from the bakers. Yum!)