It's the 22nd of December today and I'm finally starting to think about Christmas. By which I mean that I've sent all the cards, bought and wrapped all the presents, and put up two trees and all the other decorations, but now that the kitchen is in and the girls' rooms are finished I finally have the head-space to actually start feeling festive. Which is a bit sad and I feel a little bit like I've been cheated out of the run up to Christmas, which normally I enjoy. For the record, building a large extension in October/November/December with two children under the age of four is COMPLETELY MAD. I would not do it again for a big clock.
But oh my new kitchen is so lovely. And the girls' bedrooms are so sweet. And the new cloakroom is so handy. And any day now I should have the tumble dryer in the house instead of the garage, which is definitely something to look forward to.
And in the meantime, Laura and I have been doing some construction of our own.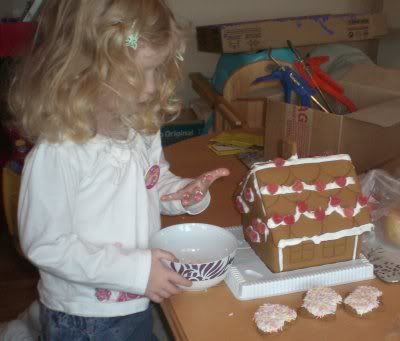 I'd been thinking of making a gingerbread house with Laura this year, but I didn't know if I'd have the kitchen/time/mental energy. Then my lovely sister-in-law gave me a gingerbread house kit for my birthday and that settled the question. It was easy to put together and I managed to distract Laura with stickers for the 15 minutes it needed to dry before we could decorate it. Now she is mad to eat it, but I've insisted it stay up until Christmas afternoon (when it shall be demolished in front of the television).