I finished Emily's birth sampler!
(Emily is 17 months old)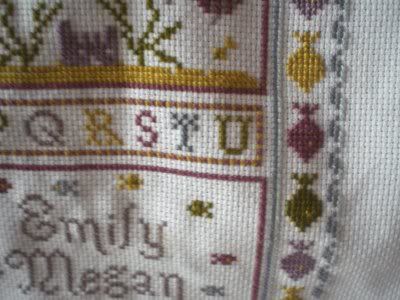 The sampler was made from a kit by the
Historical Sampler Company
although they don't seem to make this design any more (they do still have the animal one I made for Laura as well as many other lovely designs).
Now my task for today is to frame it (HOT TIP - Ikea Ribba three photo frames are the exact right size for these long samplers, if you make four vertical cuts to the mount to remove the cross-bars).
I'm thrilled to have this finished because I was very firm with myself a week or so ago and told myself I wasn't allowed to work on anything else until this sampler was finished. Now I don't know what to do next!