I got some money for my birthday and I have been converting it into yarn, which is what it wants to be really. Yes it does.
First I bought some Debbie Bliss Rialto 4-ply in cream.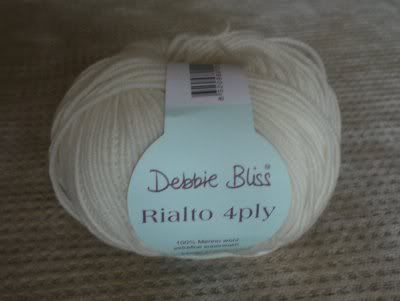 This is the same wool I used for the
Pretty Thing
I made last year, and that is deliberate, because I want to make some matching gloves. My favourite pattern so far is
Veyla by Ysolda Teague
but they are fingerless and I want fingered gloves. I may try and adapt them or I may keep looking. At this rate I hope to have a finished pair of gloves by about June.
Then last week Laura and I went to Hobbycraft and we bought some more colourful acrylic yarn for Emily's blanket:
and also some lovely sock yarn. In 2009 Mum and I went to Germany for a couple of days, and in a yarn shop there I saw some gorgeous sock yarn that at the time I had neither the cash nor the suitcase space for. When I saw the same range in Hobbycraft, with birthday money burning a hole in my pocket, I knew I needed a ball. So this is my next pair of socks, and also I promised to make a little pair for Laura as well, so I hope there will be enough!