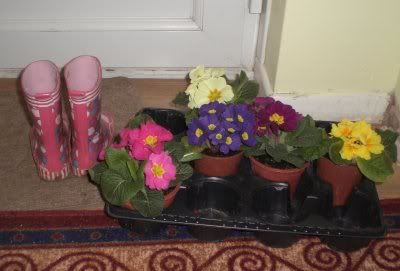 Our garden - front and back - has been hideously neglected for the last six months or so, while the building work was going on. Part of the back garden is now under the extension of course (directly under where I'm sitting, in fact) and a good half of the remaining part was a building site, but as the building materials were slowly cleared away it was becoming just a big expanse of mud. And for the front garden, I have no excuse other than laziness and apathy.
But now all is lovely again! Well, all tidy, anyway. This is due to two things. One, we found the money to have a proper patio put in - just plain paving slabs, but it's covered the worst of the mud by the house and given us somewhere for the bench and some of the girls' garden toys. The rest of the lawn just needs some grass seed and some time now. And the second, most important, thing is that my parents came up to visit this weekend and did huge amounts of gardening. My dad weeded and dug and
my mum
pruned and tidied. And bought a tray of primroses that Laura helped her plant in the front garden. I can't thank them enough for all the work they did, it's taken a huge load of my mind. And now I can look out of the patio doors and think 'garden' not 'ugh'.
So now we have a garden that is maybe a bit empty in places but is at least tidy - and it's coming up to spring, the perfect time to sow some more grass and think about what flowers we want this year. I think Laura and I definitely need to grow some sunflowers.