On Monday Laura and I did some watercolour painting. We shared the same paints. She did a large painting of Mummy Getting Dressed and I did some ACEOs.
After they were dry I added some silver pen until the pen started going all blobby (with hindsight, letting Laura use it was a mistake).
This one is my favourite: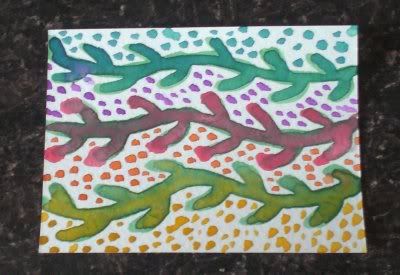 But I like them all. They were a lot of fun to make, I only stopped because Emily had woken up from her nap and needed bringing downstairs. Now I think I might embellish them a bit with some embroidery, buttons, sequins, that kind of thing. Lots of fun!