My chair in the kitchen now has a lovely new crochet cushion!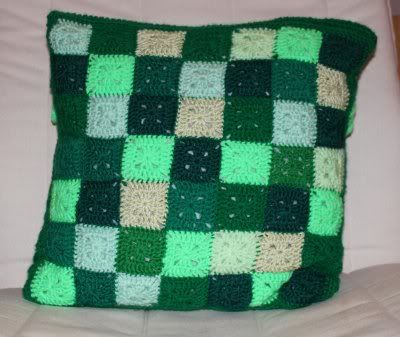 It took longer than I expected, or at least the little squares did. Faffing about trying to get the colours to look balanced took some time. The edge and back (I sewed all the squares together, then edged the big square and crocheted the back directly on) took a couple of evenings.
I did most of the back in dark green, with a contrasting stripe of the bright green over the buttons. This was entirely a design decision and nothing to do with the fact that I was running out of the dark green.
Now the other chair also needs a cushion. I'm thinking ripply stripes maybe. But I will need to get some more green yarn! The first cushion cover used more than I expected, and I will need green left over, for continuing with
Emily's blanket
.