Today I have a guest post, by my lovely sister Jen of Jennifer's Little World. Enjoy!
I've recently noticed that my toddler son has become very interested in puppets. Finger puppets are easy for a toddler to hold, and these monster puppets are really simple to make. It helps if you can do the preparation in advance, in order to avoid a frustrated toddler!
You will need:
Two pieces of felt large enough to make the puppet
Googly eyes, or small pieces of felt cut into eye shapes
Tiny pieces of felt cut into little shapes (a great way to use up some of those offcuts)
Cut a template for the puppet out of paper before cutting around it to make the felt pieces. Make a front and a back. Aim to make it large enough to fit on one adult finger, and remember to allow enough material for a seam. I have sewn around the edges of the puppet to make it sturdier, but you could just use glue.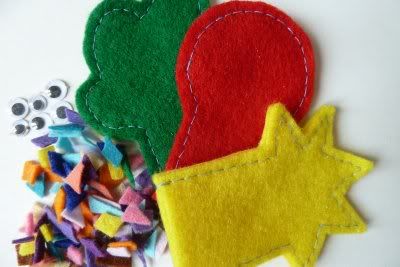 Assemble everything together, then show your toddler how to cover the monster in glue and stick the pieces down. Leave the puppets to dry, and they are ready to play with. I just use white PVA glue, and it doesn't matter if a little too much is applied as it will just add to the monster look!
Using puppets is a great way to interact with your child, so here are a few ideas:


You can make puppets to represent the characters in one of your favourite stories. Let the toddler act out the story while you read it aloud.


Make a simple puppet theatre, perhaps with a cardboard box, or just sit behind a chair or sofa. This works better if you have several children that can take turns, or else put on a show for your child.


Invent voices and characters for the puppets. You can talk about what the character does, where he lives, what he likes to do and so on.


Let the puppets talk to each other and to you.


If there is an issue that is troubling your child, you might find that using the puppets is a good way to talk about it. You can talk about what your puppet will do in certain situations.


If you are trying to modify a behavioural issue with your child, try acting it out with puppets. For example, sharing toys or potty training issues.


Thanks Jen!