So I finally finished the blanket I was making for the
Simply Knitting Knit for Refuge campaign!
It's made of 48 6"/15cm garter stitch squares, with a plain crochet border. It's child-sized, and I tried to make a pattern that was suitable for a boy or a girl. I've called it Goodwood because it reminds me of a racecourse.
This blanket is going with me to the Knitting & Stitching Show at the Alexandra Palace in October, so I can hand it over at the Simply Knitting stall there. But I thought I'd share the pattern in case anyone else liked it and wanted to make it, either for Refuge or for themselves.
The pattern is fairly simple, a combination of plain garter stitch squares, striped garter stitch squares, and mitred squares for the corners. The border is one row of double crochet (US: single crochet) but this could be left off if desired.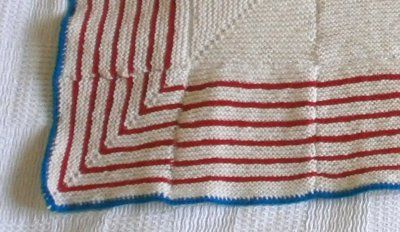 The pattern is
available for free on Ravelry
, but if you like it, please consider
making a donation to Refuge
.