One of the things that happened over the summer is that Laura turned four. I asked her what kind of birthday cake she wanted, and she said a Mike the Knight cake, so we agreed that a castle was the way to go. And this is what I came up with.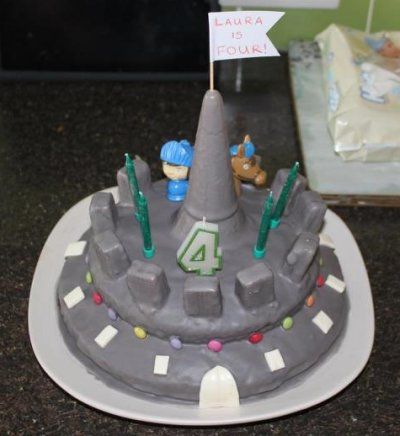 I was really pleased with how this turned out, and it wasn't even that difficult! Here's a picture from just before I iced it so you can see the construction.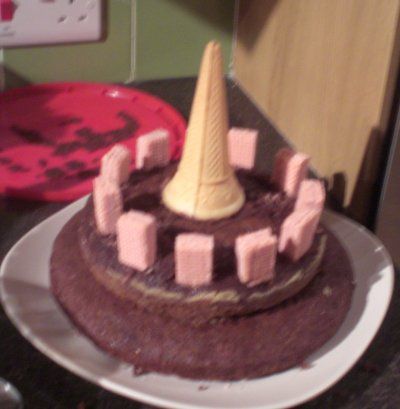 (sorry it's so blurry!)
Essentially it's two round cakes, one larger than the other, sandwiched together with some buttercream icing. I cut up some pink wafer biscuits and stuck them round the edge of the top cake with more icing (I found they stayed in place better when I used a teaspoon to dig out a little hole for them to sit in). Then an ice cream cone, upended, stuck down with more icing.
Then I mixed up a big bowl of grey royal icing and poured it over the top! I used Emily's baby knife as a plastering tool and covered the whole thing. The icing was easy to make, I got a box of royal icing sugar which just needs water added to it until you get the consistency you want. It sets hard and shiny. Once the whole cake was covered in the grey, I added some smarties for decoration, and some chewy sweets cut into the shapes of the windows and the door. The next day when the icing was hard I added the candles, flag and figures. And Laura loved it, so it was everything it needed to be.