Linking this up for the
PinAddicts Challenge
! You choose one thing that you've pinned and actually do it.
At the beginning of the summer I made a
Pinterest board called Summer 2012 Ideas
with lots of crafts and games for little ones. It made me feel a lot more confident about getting through the summer without everyone getting bored and fed up. However, we had lots of days out, and new toy infusions in July (Emily's birthday) and August (Laura's birthday), and by the beginning of this week we'd done exactly one thing from my board! So on Monday, with two more days until the start of term, I thought we'd have a go at one more. I chose Cloud Dough, which was pinned from
here
. Eight cups of flour and one cup of baby oil.
Firstly, I didn't have any baby oil so I used cooking oil. Also, when I was measuring the flour out into the washing-up bowl I thought that 6 cups looked like enough so I used 3/4 of a cup of the oil. Then I mixed, first with a wooden spoon and then with my hands, until it was all mixed in. It was very similar to when you mix flour and butter to make pastry 'breadcrumbs' which makes a lot of sense! I put the bowl out on the patio, along with some wooden spoons, teaspoons, plastic cups and toy diggers, and let the girls have at it.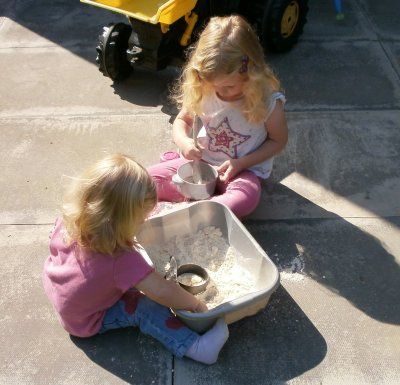 They had great fun! And played for ages. Digging, moulding, scooping, driving it around in little trucks. Some of the toy kitchenware ended up in there so Laura could make cakes. Emily mainly filled up a cup using a spoon, then dumped it out, then did it again.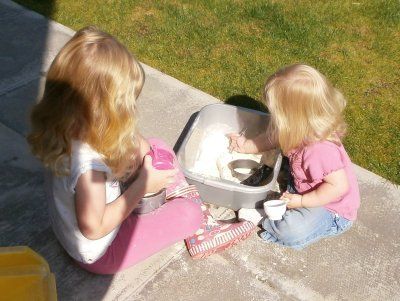 I would very much recommend using this outside, especially with younger children. The flour got spread far and wide, and despite my best efforts made it into the house (little white footprints all over the floor and the rugs). And the bottom of Emily's trousers was a sight to behold. But they had good fun and I'll definitely remember it for other sunny days in the future.