A rainy Sunday afternoon is just the time to make
chocolate fairy cakes
with your little helper: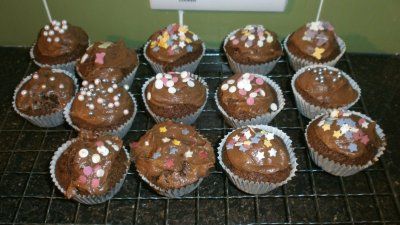 We've accumulated quite a few pots of different kinds of sprinkles and Laura always insists on using them all.
Also to show off on this rainy Monday morning is the bear that I knitted for the Simply Knitting Refuge campaign (just like
Goodwood
). She's coming with us to the Knitting & Stitching Show to be handed over.
I'm now making a jumper for Laura, from a Rowan pattern that is free on their website. Finished the back so far, and started on the front. I will try and remember to take some photos and I will share them next time. And also of Laura's new bobble hat, her winter hat from last year having got a bit small. Children that keep growing certainly keep you knitting.
I'm linking up this week with
Handmade Monday
for the first time, over at Handmade Harbour. Lots of lovely blogs are linked up so why not join in!