I made some yarn! Proper yarn. Don't look at it too closely and it looks fairly impressive, I think. I even managed to twist it up pretty neatly.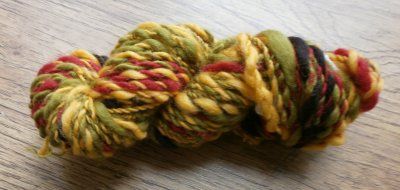 Towards the end of spinning this yarn I was starting to feel like I had the knack of it, it would go wonderfully for a bit, then I'd stuff it up, then I'd have another while of it going beautifully, then it'd go too thin and break and the spindle would go flying across the living room and startle the cat. But I think I'm ready to start the pretty roving I bought in London now.
Joining in with
Handmade Monday
again, do go and take a look!