A little bit ago my sister Jen posted
this cookie recipe
on her blog. I had most of the ingredients so I bought some Smarties and gave it a go.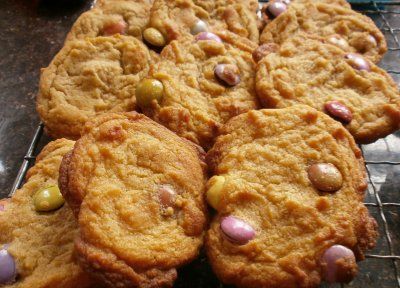 Yum yum!
This recipe makes delicious cookies, lovely and chewy in the middle. I've tried a few more variations since then. I replaced a bit of the flour with cocoa and added some peppermint essence and dark chocolate - that was OK, but using mint-flavoured chocolate would have been easier and more effective. I put some bits of bonfire toffee in with the plain mixture and the toffee melted and make the whole cookie chewy and toffee-flavoured, will definitely do that one again! And peanut M&Ms are a good addition although they were a bit big and chunky for the cookies, I might bash them up a bit next time.
Linking up with
Handmade Monday
again, lots of lovely blogs there as always!