At the Knitting & Stitching Show I bought two 50g-worths of wool roving in the same colourway. I'm now getting close to finishing spinning up the second one.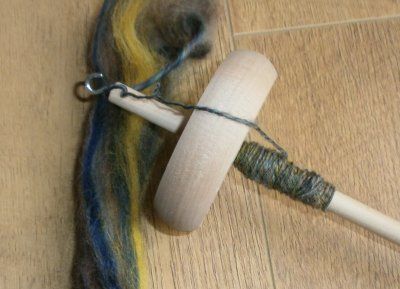 The single-ply yarn is still not amazingly consistent but it's getting better, and my spinning feels more fluent as I do it. The spindle still goes flying across the room from time to time though. Last night I managed to bend a fingernail back as it did it, still not quite sure what happened there.
I also decided to try chain-plying this yarn, and found it a lot easier than the two-ply I'd made before. Only having one ball of single-ply helped a lot and also it made it easier to control the amount of yarn I was working at one time. This little skein is chain-plied and I'm going to do the rest of this yarn the same way.
My goal - which is one of the ones on my
Day Zero list
- is to spin enough yarn to knit a scarf. I think I'm well on my way! Now I just need to find a simple stitch pattern for the scarf and do a little swatch.