My Mum bought me some Kool-aid back from the USA a couple of months ago and I finally found a chance to try it. I had some blue 4-ply yarn that was hanging around not doing much; I want to knit a new pair of socks but I wasn't too keen on the colour, so I thought I'd try over-dyeing it.
I put a few spoonfuls of cherry Kool-aid in a plastic tub with some water. I skeined the yarn (I had to divide it into approximate halves as the ball was too big to do all at once) and put one skein in the plastic tub and zapped it in the microwave for two minutes. Then I took it out, swished it about a bit, and gave it another two minutes. Then I made up fresh Kool-aid and did the same with the other skein.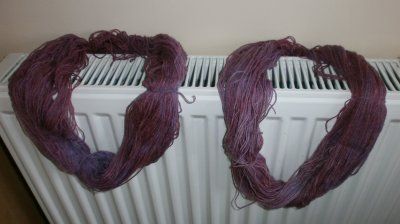 I haven't been able to get a good photo of the yarn wound up, with the right colours, but it has turned out beautifully. Squashing it into a tub that the yarn couldn't move around in very well means that is a gorgeous semi-solid, with shades of bluey-purple through to red. I am pleased as punch. And it smells pleasingly of cherries.
Now I can knit some socks!