As I think I said before, one of the items on my Day Zero list was to spin enough yarn to make a scarf. I used the wool I bought at the Knitting & Stitching Show. And now it is finished!
I thought about spinning and plying all the yarn, then alternating skeins so that my uneven spinning at the start would not be as obvious. But I was impatient to start knitting it up and also I thought it would be a fun illustration of how much my spinning improved just over that much fibre. Which is the explanation for this, the starting end: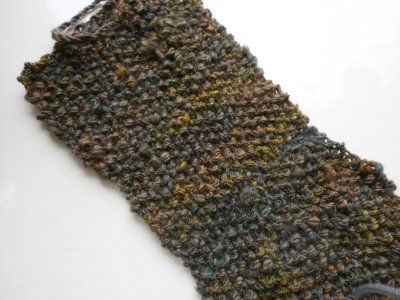 Very lumpy! But as I progressed I definitely improved. The first yarn was very overspun; by halfway down the scarf I was spinning much more evenly and the yarn was softer. I didn't separate out the colours, just span it as it came, which made it nice and tweedy.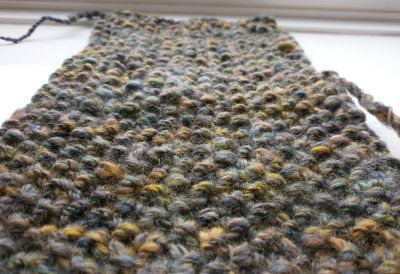 The scarf is blocking now. It's not actually long enough for a scarf, so I'm going to sew it round into a cowl and add some pretty buttons. The blocking has made the overspun yarn bloom a bit and hopefully it will even out the width. But I'm pretty proud of myself! And I've even finished another item from handspun, more about that another day!
Linking up to
Making Monday
with Natalie and
Handmade Monday
with Handmade Harbour. Lots of lovely blogs on both of those so check them out!